Giuseppe Ficara, Guitar
Suzan Harvey, Soprano
Italian Institute of Culture
233 Domain road,
South Yarra
Melbourne 10 February 2011 at 7pm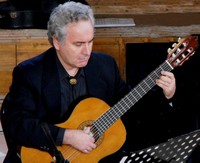 Giuseppe Maria Ficara

studied in Bari National Conservatory, with Linda Calsolaro, a pupil of Andrés Segovia, with Nicolas Alfonso in the Royal Conservatory, of Brussels, with Oscar Ghiglia in Gargnano (since 1973) and in Siena at the «Accademia Chigiana».
In 1976 he won the First Prize of the international competition «Fernando Sor» in Rome.
In May 1980 the issue of his first record, all about Mario Castelnuovo-Tedesco, which has been defined «A virtual trasure trove» by George Warren in the american review «Guitar and Lute Magazine». Itcontained many first world recording of M. C.-T., starting with "Variations à travers les siècles".
His long careeer as a concertist let him play a wide repertory in important italian and foreign concert societies, such as «Accademia Nazionale di Santa Cecilia» in Rome, «Orchestra di Bari», «Orchestra di Perugia e dell'Umbria», Brussel's «Jeunesses Musicales», Louvain-la Neuve Musicology Institut, RTBF radio and television broadcasts, «Festival de l'Eté Mosan» (Belgium), Moulin d'Andé Academy (France), UNISA, Stellenbosch University and Classical Guitar Society in South Africa, Alliance Française and Sri Aurobindo Ashram in Pondicherry and Auroville, India, Sonnenlink in Mani, Greece. He is a member of the "Accademia del Sarmento"
Giuseppe Ficara has been teaching guitar since 1976 in many italian National Conservatories; he gave Mastercourses in Italy, at Cape Town University, South Africa and at the Moulin d'Andé Academy, France. He has also been teaching in various belgian music Academies.
Guitar Professor at «G. Rossini» National Conservatory in Pesaro.
Suzan Harvey completed her Bachelor of Arts in Music Performance with a major in Musicology and then went on to complete the Graduate Diploma in Opera at the Victorian College of the Arts, Melbourne University.
She spent over 3 years performing with the Melbourne Chorale and then the Melbourne Chorale Ensemble with the Melbourne Symphony Orchestra. Suzan has also performed in productions with the Melbourne Opera, Melbourne City Opera and Puccini Festival Australia.
The two musicians have been introduced to each other by Joseph Talia, Director of the Melbourne City Opera and by David Isaacson, a former guitar student of Giuseppe Ficara in Cape Town University and Bari Conservatorium, now living in Melbourne. A debut of a new international Duo.
Giuseppe Maria Ficara is playing this evening a Rod Capper guitar of 2004, from New Zealand
Girolamo Frescobaldi (Ferrara 1583- Roma 1643):
Aria con Variazioni detta "La Frescobalda"; (per chitarra sola)

Mauro Giuliani (Bisceglie 1781- Napoli 1829):
Grande Ouverture op. 61. (per chitarra sola)

"Confuso, smarrito", Aria (per canto e chitarra)
Adriano Cirillo (Bari 1951):
Variazioni su un tema di Paganini (chitarra sola)
Tommaso Giordani (Napoli, dal 1730 al 1733 – Dublino, febbraio 1806):
Caro mio ben (canto e chitarra)
Mario Castelnuovo-Tedesco (Firenze 1895- Beverly Hills 1968):
Variazioni (attraverso i secoli...) op. 71: Chaconne, Preludio (dolce e triste), Walzer I e II, Fox-trot; (chitarra sola)
Francesco Paolo Tosti (Ortona 1846 – Roma 1916):
"A vucchella" ( su testo di Gabriele D'Annunzio in napoletano) (canto e chitarra)

Mario Castelnuovo-Tedesco :

Tarantella ( chitarra sola)
Canzone siciliana di Calì-Formisano. "E vui durmiti ancora" ( canto e chitarra)